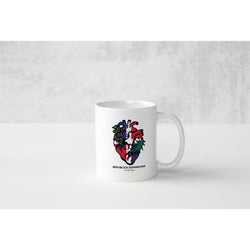 Charly Bryan "Republica Dominicana" Coffee Mug - Flag in my heart collection
Tomate tu café en estilo, mientras representas tu país.

Charly Bryan "Republica Dominicana" Coffee Mug
Este es un pozuelo que merece ser apreciado y coleccionado por todos los Dominicanos del mundo.  No importa donde vivas, con este pozuelo estarás representaras tu país con orgullo.
Es un diseño único en la cual incorpora la forma de un corazón con elementos de la bandera Dominicana y su bello escudo.  

Es un pozuelo de muy buena calidad y durabilidad.
Este diseño fue creado por un talentoso diseñador gráfico de Inglaterra que pudo llevar nuestra idea a una realidad.
Es un pozuelo que te va a encantar y merece estar en tu colección.
Charly Bryan Clothing English Mini Bio
Charly Bryan Clothing was founded in 2017, in the historic city of Boston, by Tomas Soto, a Dominican entrepreneur who loves his city and his native roots and wants to reflect the diversity and culture of Boston.  We are Boston strong, and we are going to the top.
We believe in being trendsetters, not followers, and we are working hard to build our brand one customer at a time.
As a Latino-owned brand, we take pride in our heritage and the values that we were raised with.
We are laser-focused on providing our customers with the highest quality clothing with clean and classic designs that take a minimalist, contemporary approach to fashion.
We believe simplicity is the ultimate form of sophistication, and our meticulous attention to detail sets us apart. 
A Charly Bryan garment is more than just a piece of clothing. It's a symbol of hope, determination, and resilience.  It's a reminder that you can consistently achieve your dreams, no matter where you come from or your challenges.
It's a reminder to embrace your culture and be proud of who you are, celebrating your individuality and self-expression.
Embracing the Charly Bryan lifestyle means that you are a fighter, a visionary, a compassionate individual who cares about making a positive impact in the world, and most importantly, you put your commitment to God and your family above all else.
We invite you to join us in our journey and be part of the history of a growing brand.
Our Message: Be Different, Be Unique, but above all, Be you.
Our Slogan: I'm Charly Bryan; You're Charly Bryan; we're all Charly Bryan.
¡Welcome to the family, and thanks for supporting us!

Charly Bryan Clothing Mini Bio Español
Charly Bryan Clothing fue fundada en 2017, en la histórica ciudad de Boston, por Tomas Soto, un emprendedor dominicano que ama su ciudad y sus raíces nativas y quiere reflejar la diversidad y cultura de Boston. Somos Boston strong y vamos a llevar esta marca hacia la cima.
Creemos en ser creadores de tendencias, no seguidores, y estamos trabajando arduamente para construir nuestra marca, un cliente a la vez.
Como marca fundada por latinos, nos enorgullecemos de nuestra herencia y los valores con los que nos criaron.
Estamos enfocados en proporcionar a nuestros clientes ropa de alta calidad con diseños limpios y clásicos que adoptan un enfoque minimalista y contemporáneo de la moda.
Creemos que la simplicidad es la máxima forma de sofisticación, y nuestra meticulosa atención a los detalles nos distingue.
Una prenda de Charly Bryan es más que una simple prenda. Es un símbolo de esperanza, determinación y resiliencia. Es un recordatorio de que siempre puedes lograr tus sueños, sin importar de dónde vengas o tus desafíos. Es un recordatorio para abrazar tu cultura y estar orgulloso de quién eres, celebrando tu individualidad y autoexpresión.
Adoptar el estilo de vida de Charly Bryan significa que eres un luchador, un visionario, una persona compasiva que se preocupa por tener un impacto positivo en el mundo y, lo que es más importante, que pones tu compromiso con Dios y tu familia por encima de todo.
Te invitamos a unirte a nosotros en nuestro viaje y ser parte de la historia de una marca en crecimiento.
Nuestro mensaje: Sé diferente, sé único, pero sobre todo, sé tú.
Nuestro lema: Yo soy Charly Bryan; Tu Eres Charly Bryan; Todos somos Charly Bryan.
¡Bienvenido a la familia y gracias por apoyarnos!
@charlybryanclothing
857 407 8474